ArtWine
Vineyards
On a family estate in Grošnica, just next to Kragujevac, in the heart of Šumadija begins our wine story.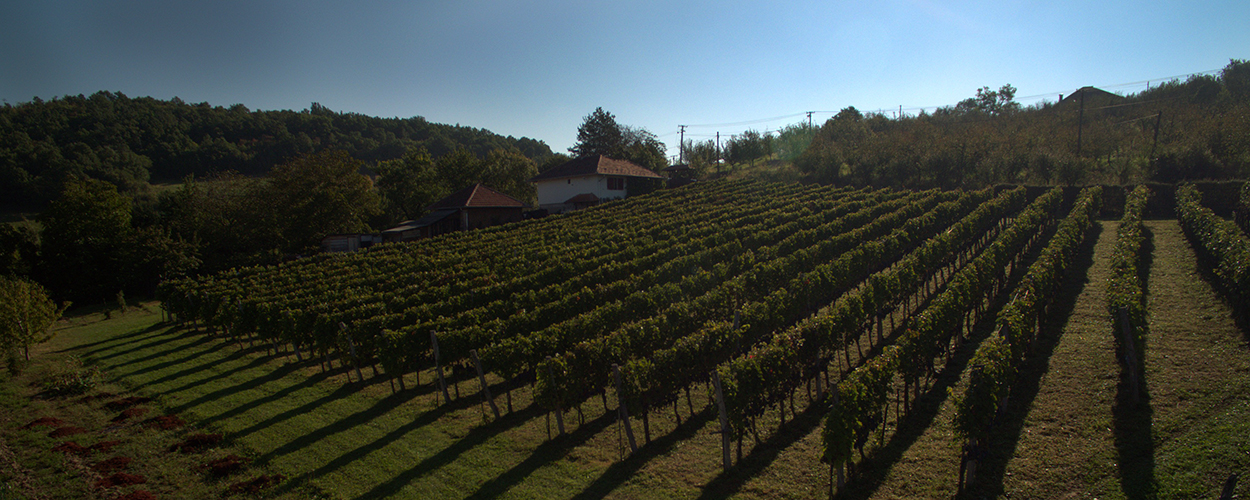 The structure of the land and favorable climate enabled us to plant a vineyard on our estate and start the wine production, primarily for our own needs. As such, our wine found its way to numerous wine experts who agreed on one thing: it's one of the best Cabernet wines they have ever tasted. Thus, we have decided to expand our production but never to give up on our traditional approach along with the use of new and modern technology.
Every vine and each bottle of wine deserves special attention.
Since the very foundation of our winery, our goal has been to produce high-quality wine which could come close to world standards.
The commitment to that approach could be seen in the fact that when the weather conditions were not favorable or when rainy years caused bad wine crops we have not produced wine using those years' harvests.
Types of wine which define our brand are:
Argument (Cabernet Sauvignon ),
Tangenta (Chardonnay ),
Sumarum (Merlot ),
300 (Limited Edition).
Since 2017 harvest, our Cabernet Sauvignon – Argument has been the wine with the geographical origin label which guarantees the end consumer the quality and the uniqueness of Šumadija's wine region. Less know fact in Serbia is that our Argument wine successfully represents Serbia in the Wine Museum in Bordeaux, side by side with the most famous wine regions in the world.
We can proudly say that our winery is one of the co-founders of Šumadija winemakers association which is led by the idea to make Šumadija a significant destination on a European wine map.
Available historical documents and official statistics prove that our wines are the first to be registered and labeled in Kragujevac. Moreover, the awards which our wines got were the first in this part of Šumarija.
"We are writing" history believing that we are going to become one of the best presenters of Serbia on every level.
A good wine is the best tourist guide. We are completely positive that it will be the one to bring you to us and our 'wine oasis'.
Art Wine winery guarantees a unique experience which all wine lovers can enjoy. Each wine has its own special story and we are pleased to share them with you!
Why? Because making wine is beyond occupation!
It's a way of life!
Welcome!
Receive invitations, updates and bonuses for purchasing