ArtWine
Vineyards
On a family estate in Grošnica, just next to Kragujevac, in the heart of Šumadija begins our wine story.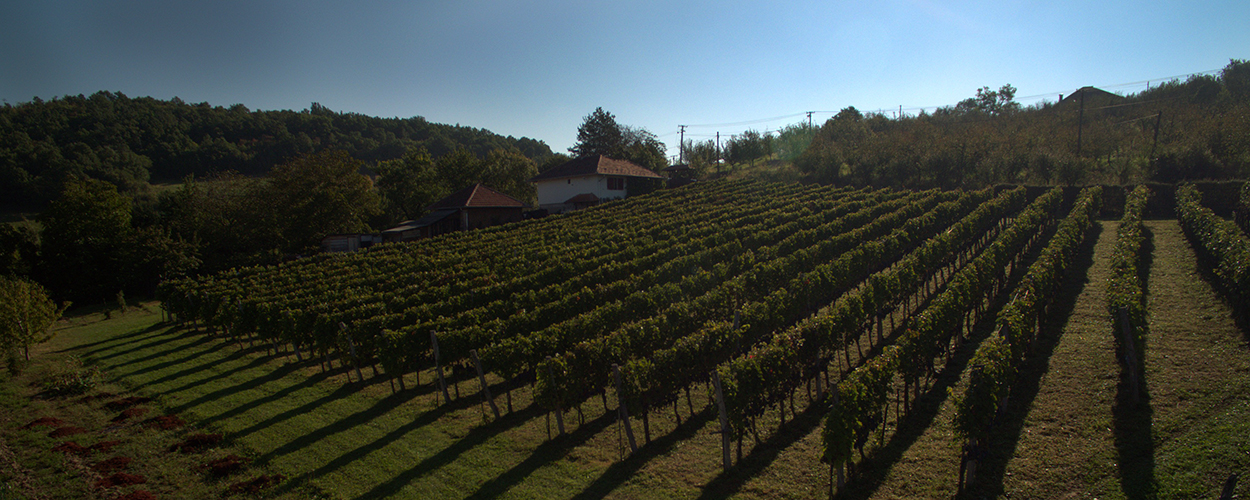 The structure of the land, favorable climate and the best exposures provided us with the opportunity to plant a vineyard on our estate and start wine production. The Winery has its own vineyards with a two hectare area, and with modest ambitions to raise another hectare of vineyards in the future. We believe that only with a small plantation, every vine and each bottle of wine receives special attention. Since the very foundation of the winery, the goal has been to produce high-quality wines, which can bring the best from Šumadija closer to world standards. The commitment to such production is best illustrated by the fact that when the weather conditions were not favorable when rainy years caused bad wine crops, we have not produced wines using those years' harvests. Grape varieties that we grow:
Since 2017 harvest, our vineyards have the indications of the geographical origin of Šumadija, with all the specifics and characteristics of the grapes from the Šumadija wine region. Cheers!
The structure of the land, wind rose and favorable climate are the nature's gift that turns into the highest quality wines every autumn.
A small-size production, uncompromising devotion exclusively on quality and creating a unique and remarkable style, the use of latest technologies, represent our path and the only right choice. Guided by the truth that wine is made in the vineyard, and that it is only nurtured in the cellar, we are dedicated to growing very high quality grapes. In the production process we try to preserve the specifics of the climate, soil, and varieties of our wines. Determining the right moment of the harvest, thus making an ideal balance between technological and phenolic ripeness of grapes, we create a recognizable style which mirrors the uniqueness of each year.
Tangenta - Chardonnay is already known for its unique style, not being primarily focused on the current market demands, but rather a unique story recognized by true lovers of this luxurious variety. This wine is made of 100% top quality Chardonnay grape sort.
Our red wines, Argument-Cabernet Sauvignon, Samarum-Merlot are made from the same-name grapes which are blended only in good years.
Argument-reserve is a varietal wine: 85% Cabernet Sauvignon, 10% Merlot and 5% Cabernet Franc.
Cabernet Sauvignon - Argument is a wine with the geographical origin label of Šumadija, which guarantees the end consumer the quality and uniqueness of Šumadija's wine region. This wine is aged in barrique barrels for at least 24 months.
Samarum is a varietal wine: 85% Merlot and 15% Cabernet Franc.
This wine, after the completion of alcoholic and malolactic fermentation, matures in oak barrique barrels made of the finest oak for at least 12 months.
Making wine is beyond occupation!
It's a way of life!
Receive invitations, updates and bonuses for purchasing