ArtWine
Winery
The structure of the land, wind rose and favorable climate are the nature's gifts that each autumn join together to create the highest quality wines of Art Wine winery.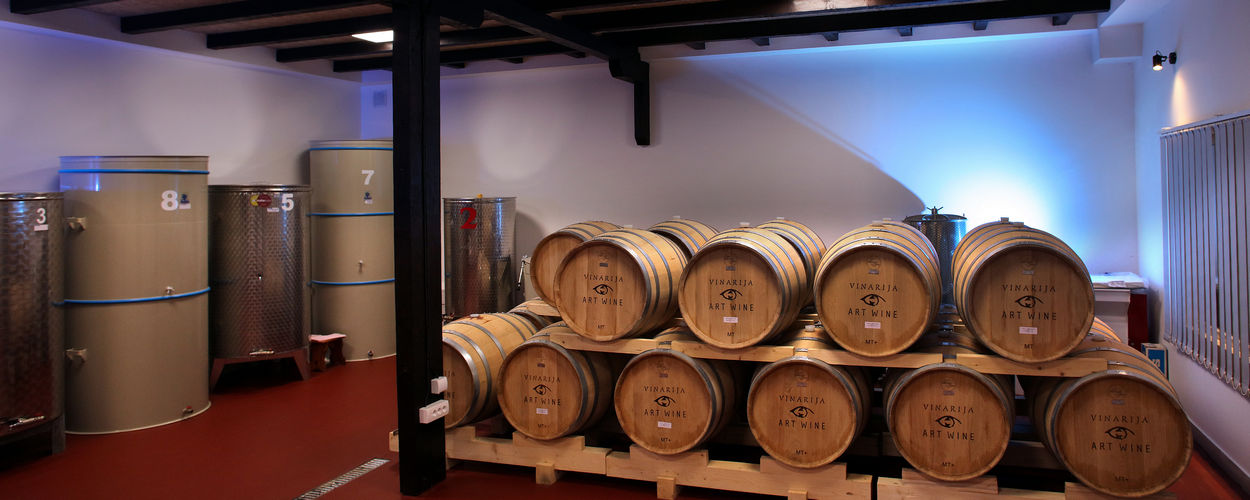 A small-size production, unconditional devotion to quality and creating a unique and remarkable style, the use of the newest technology but also maintaining traditional values represent our path and our goal. Believing that wine comes from the vineyard and it is only nurtured in the cellar, we are devoted to growing high-quality grapes. In the production process itself, we are striving that our wines preserve the uniqueness of climate, exposition, land and sorts. Moreover, by determining the right moment of harvest, thus making an ideal balance between ripeness of grapes from both technological and biological aspects, we create a recognizable style which mirrors the uniqueness of each year.
Our Tangenta-Chardonnay wine is already famous for its unique style which does not focus on the current market demands but on a unique story which true lovers of this wine sort can recognize. This wine is made of 100% top quality Chardonnay grape sort. 85% of the wine content is fermented in Inox wine barrels where it can preserve its fruity taste and freshness while the rest of the content, more precisely 15%, is produced by barrel fermented technology i.e. this wine is fermented in oak barrique barrels. This quantity of wine gives our Tangeta wine the body, special vanilla aroma and of course completes the roundness and complexity of this wine sort. Our red wines such as Argument-Cabernet Sauvignon, Samarum-Merlot and Opskura cuvee are made of grape sorts of the same name and wine coupage but only during good wine years.
Argument wine contains 85% of Cabernet Sauvignon and 15% of Merlot; Samarum is made 100% of Merlot sort.
Opskura is a unique coupage of these two great sorts with the small percentage addition of other sorts. After the fermentation process conducted on somewhat higher temperatures and completed alcoholic and malolactic fermentation processes, our red wines are left to mature for at least a year in oak barrique barrels made of the finest oak trees.
Receive invitations, updates and bonuses for purchasing